Study, Live and Work in Canada's Capital
Opportunities at Sprott are enhanced by our location in the capital of Canada, Ottawa, a diverse and enterprising city where people work together to address the most pressing challenges in our communities and around the world. The spirit of collaboration within and beyond the borders of the university provides limitless prospects to apply knowledge for the good of humanity.
Ranked in the top 5 among comprehensive universities in Canada, Carleton University is a dynamic research and teaching institution with a tradition of leading change. Its internationally recognized faculty, staff and researchers provide more than 30,000 students from more than 100 countries around the world with academic opportunities in over 65 programs of study. Carleton's creative, interdisciplinary and international approach to research has led to many significant discoveries and creative works.
The Carleton campus is surrounded by the Rideau Canal, the Rideau River and a quiet residential neighbourhood. It is just minutes from Parliament and downtown Ottawa, and is well-serviced by public transit.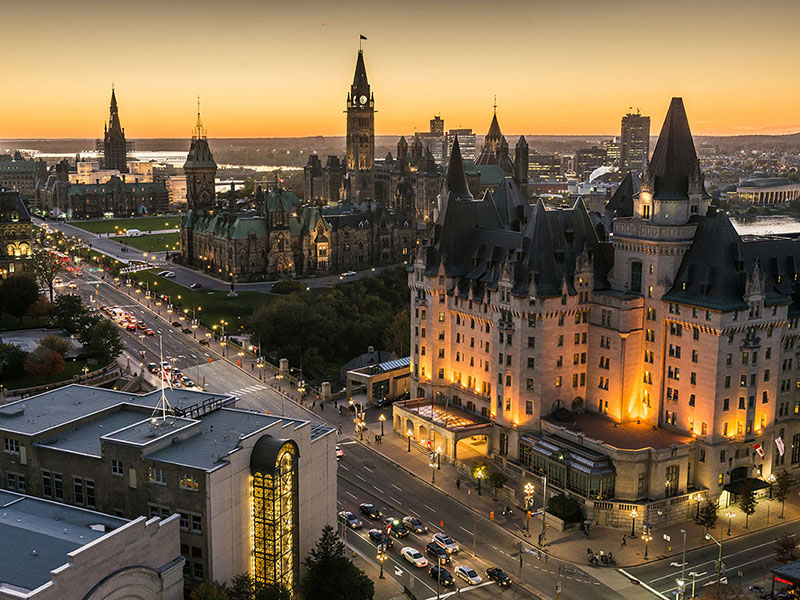 Ottawa, Ontario, Canada
As a G7 capital, Ottawa offers an unparalleled international network of government departments, international agencies, global companies and an extensive diplomatic community. The nexus of government, NGOs and global business, Ottawa is a hub of social and technological innovation and offers students unique learning opportunities available only in the nation's capital.
Canada's fourth largest city, Ottawa offers students employment and co-operative education opportunities in the public, private and not-for-profit sectors. Additionally, Ottawa boasts a vibrant entrepreneurial culture and is home to one of North America's leading global technology hubs – Kanata North, which consists of over 1,900 companies, ranging from small and medium-sized enterprises to multinational companies at the innovation forefront.
Ottawa ranks 3rd in North America and 19th in the world in Mercer's worldwide 2019 Quality of Living City Ranking.
As Canada's capital, Ottawa has plenty of travel options to connect nationally and around the world, including an international airport, train station and coach bus station. Located in the province of Ontario at the Quebec border, Ottawa is a short flight or train ride to major North American cities including Toronto, Montreal, New York City, and Washington, D.C.
As the nation's capital, Ottawa hosts many visiting dignitaries, major events and festivals, including Winterlude, Bluesfest and Canada Day. Here you will find national museums and historic sites, as well as the Ottawa Senators NHL hockey team and other professional sports teams.
Ottawa is also one of the world's most picturesque capitals with its many parks, green spaces and waterways. Winter activities include skiing, snowboarding and ice skating along the Rideau Canal, the world's longest skating rink. In warmer months, you enjoy hiking, cycling, water sports, ziplining, golf and more. Just minutes from downtown lies Gatineau Park, 361 square kilometres of forest, lakes, beaches, nature trails and stunning lookouts.
Discover Ottawa