Did you know that Carleton University has one of the most generous scholarship programs in Canada? Learn more!
Carleton's Bachelor of Commerce: Training Students to Change the World
Experience a Capital Location
Carleton University
Ranked in the top 5 among comprehensive universities in Canada, Carleton University is a dynamic research and teaching institution with a tradition of leading change. Its internationally recognized faculty, staff and researchers provide more than 30,000 full- and part-time students from more than 100 countries around the world with academic opportunities in more than 65 programs of study. Carleton's creative, interdisciplinary and international approach to research has led to many significant discoveries and creative works.
The Carleton campus is situated on a safe and beautiful campus, just minutes from downtown Ottawa and Parliament Hill.
Ottawa, Ontario, Canada
Ottawa – Canada's capital – is a vibrant and diverse city where people work together to address the world's most pressing challenges. Ottawa offers a unique balance of urban living and nature, culture and heritage, business and government. Throughout the year, Ottawa hosts many festivals, artists, sporting events and visiting dignitaries. Canada's fourth largest city, Ottawa ranks third in North America and 19th in the world in Mercer's 2019 Quality of Living Ranking.
Located in the province of Ontario at the Quebec border, Ottawa is a short flight or train ride to major North American cities including Toronto, Montreal, New York City, and Washington, D.C.
Get an Exceptional Business Education
At the Sprott School of Business, we encourage students to ground their learning journey in their own values and personal goals. A Sprott education takes place both inside and outside of our classrooms through live business projects, co-operative education, case competitions, entrepreneurship and professional engagements Our programs are internationally accredited by AACSB.
In the course "Developing Creative Thinking", business students work with students in engineering and industrial design to develop solutions to regional challenges in Longido, Tanzania.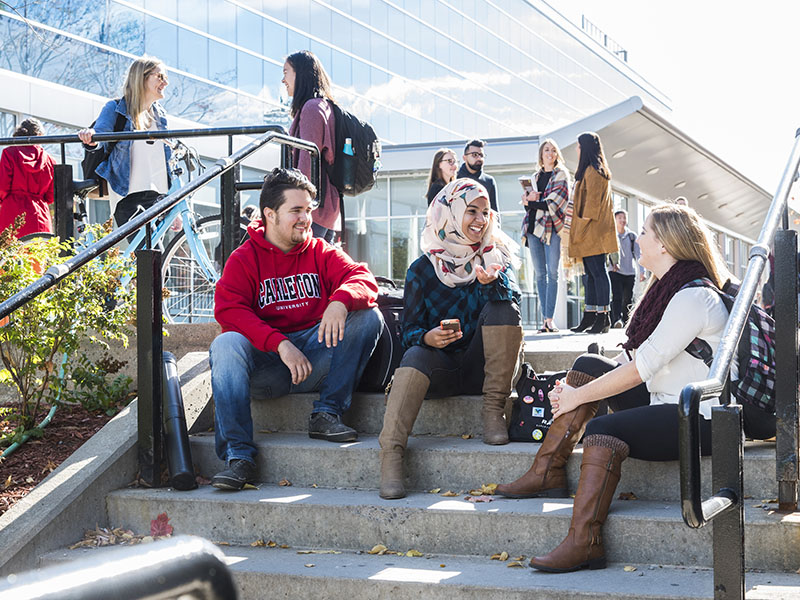 Bachelor of Commerce (Honours)
Sprott's Bachelor of Commerce (BCom) delivers a complete business education with options to add a concentration, co-operative education, study abroad, and a minor in another subject.
BCom Concentrations: Accounting, Entrepreneurship, Finance, Information Systems, International Business, Management, Marketing, and Supply Chain Management.
The Sprott School of Business also offers a Bachelor of International Business.
Get Ahead in Your Career
Over the past three years, 91.5% of Bachelor of Commerce graduates reported they were meaningfully employed within 1 year of graduation.
Co-operative Education: An option open to students in the BCom program, co-operative education enables you to gain full-time, paid employment related to your program. Work terms begin in the summer after second year and alternate with study terms.
Business Career Management Centre: Sprott's nationally-recognized career centre offers a full range of specialized career services and individual support, including employer and alumni connections, professional skills workshops, career advising, and access to an exclusive job portal.
Join a Vibrant Student Community
At the Sprott School of Business, you will be part of a supportive and diverse student community. Here you will find endless opportunities to explore your interests and grow your social circles. Sprott is home to many student-run clubs that provide social, academic and professional opportunities.
Carleton provides outstanding student services to support all facets of your success. The International Student Services Office offers services and programs dedicated to helping international students adjust to life in Canada – making sure you get the most of your student experience.
A New Home for the Sprott School
Opening in 2021, the Nicol Building will provide an inspiring and collaborative learning environment where students can pursue their dreams. Located at the heart of the Carleton campus, the Nicol Building will serve as a gateway to the community. Here, we will work together with industry and community partners to innovate and make a positive impact in the world.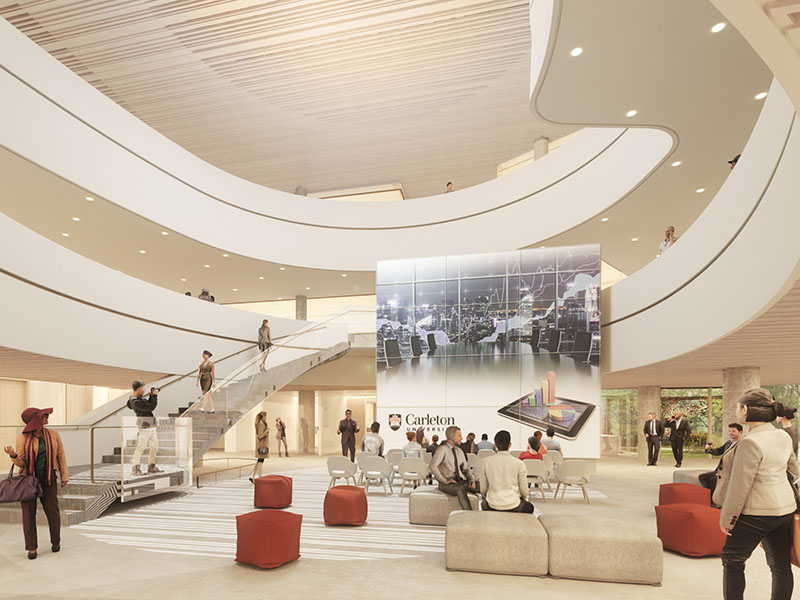 Attend Carleton in Fall 2021!
Entry Requirements
International students who are applying to the Bachelor of Commerce at Carleton University must meet certain academic criteria. High school graduation is the normal minimum level of study to be considered for admission to the first year of the program. Academic performance in the most recent years of study is the main determining factor for admission.
The specific prerequisite subjects below are the necessary minimum requirements and only establish the eligibility of an applicant to be considered.
Required courses for the Bachelor of Commerce:
English
Math (Calculus is recommended)
Proof of English language proficiency is also required for all degrees. Students can demonstrate their English language proficiency by providing an approved English language test score, or by presenting official transcripts indicating they have studied for the last three years (full-time) in a high school, college or university in Canada, the United States, the United Kingdom or any other country in which the primary language is English and where the language of instruction in the relevant educational institution was exclusively English.
International Admissions Requirements
Tuition and Costs
Average tuition fees per year: CAD$32,807.57
Costs per year: Living costs CAD$12,063; Average private rent CAD$5,250
Please refer to Carleton University's Admissions website for more information on International Student Costs.
Scholarships
Carleton University has one of the most generous scholarship and bursary programs in Canada. Last year, more than 12,000 scholarships and bursaries totalling over $23 million were awarded to undergraduate students.
Entrance Scholarships: Students applying directly from high school who are admitted with an admissions average of 80 per cent or higher are automatically considered for the merit-based renewable Entrance Scholarships.
Sprott School of Business Scholarships: The Dean's Entrance Scholarship of Excellence, values at CAD$2,000 or CAD$4,000, will be awarded to the top students entering the first year of the Bachelor of Commerce program. This scholarship is awarded in addition to other Entrance Scholarships.
We are here to help!
If you have any admissions questions: