More than ever our society—our world—is relying on solutions. We are amid a devastating COVID-19 pandemic that has, and will, continue to change the world as we know it. And so, we find comfort in knowing that there are people working on solutions to keep our people healthy and safe, our economy alive and well, and to believe that we can bring life back to some level of normalcy and stability. Like it or not, the natural evolution of life is putting humanity to the test. But adapting is what we do best. This is a time that solutions need to come from the collective world as we tap into our altruistic side—to consider the greater good of humanity over the needs of our own—to know that during these difficult times, people are willing to come together to help overcome the challenges—to be humanitarians.
The faculty at the Sprott School of Business is doing just that. They are a team of academics who know how to pool their intellectual acumen and work synergistically to solve grand challenges that face our society and our world. I have had the pleasure of working with many of the Sprott faculty; interviewing them about their research—long before this virus came to be. And during these discussions with them I got to know the person behind the research. Their leading-edge research programs are impressive for sure; but what's more, in writing their stories I learned that every one of them has this immense and incredible desire to help the world. They are crusaders because they are genuine and passionate about the research they do and how it can—and will—help our world. Moreover, the team's research is an eclectic, often interdisciplinary, program where they think outside-the-box and see challenges in business as not just about helping corporations succeed, but helping people succeed. They are humanitarians.
Apropos, the Sprott faculty are stepping up and coming together with all the same passion and commitment as before. In these unprecedented times, the faculty have mobilized their research programs at unprecedented speed and over a dozen faculty have been awarded substantive grants from Carleton University's COVID-19 Rapid Research Response Grants, Mitacs, and SSHRC to fund their COVID-19 research. The faculty work within a diverse range of research areas at Sprott and have taken this critical time to team-up with members of business, government, other universities, and society alike to tackle the challenges from, and devise business solutions to, the COVID-19 pandemic.
Moreover, there is focus on some highly novel areas of business, such as work by Dr. Vinod Kumar and Dr. Uma Kumar (Supply Chain Management), who are examining the level of trust seniors must have to accept autonomous care systems—artificial intelligent (AI) medical care—over human support. The use of AI with the senior population, who have been greatly impacted by COVID-19, can significantly improve independence and increased social interactions, as well, provide improved patient safety and quality of care.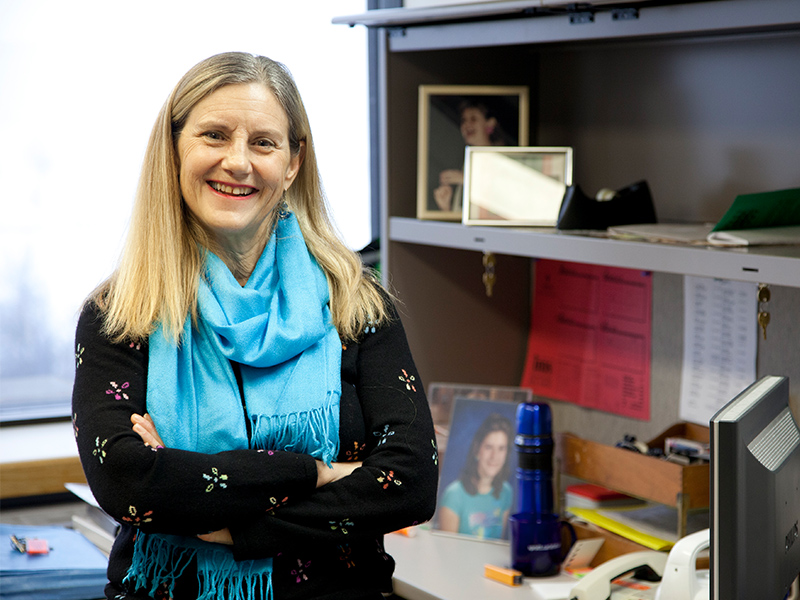 Or, Dr. Linda Duxbury (Management) who has undertaken a real-time study called "Work, Family, Life" project, in collaboration with the Canadian Mental Health Association (Ontario Division), to explore the challenges, stressors, and coping strategies of working adults during the pandemic. In addition, Duxbury is conducting a parallel study that focuses on the unique experiences of police officers (and their partners) as frontline workers during and after the pandemic.
As well, Dr. Rick Colbourne (Equity and Inclusive Communities) is working with Indigenous communities to map their economic venture responses and help develop insights that address risk issues and challenges to community health and socioeconomic well-being resulting from the pandemic.
With an upheaval to the workforce, it is imperative that during and post-COVID-19, there is care taken to ensure the health and well-being (both physically and mentally) of all employees. Sprott has numerous faculty who have a strong focus in this area and The Centre for Research on Inclusion at Work (CRIW), funded by the RBC Foundation, has recognized and awarded four research groups in this area to support their research exploring the impact of COVID-19 on workplace inclusion. Research has begun to understand how work culture has changed during the pandemic including research exploring challenges and benefits associated with remote working; impacts and responses to social-distancing guidelines on business and communities; how COVID-19 regulations are affecting employees and consumers alike in a brick-and mortar retail setting; as well, research examining the impact of social isolation and remote working on single mothers—another particularly hard hit demographic—with the goal to identify effective support strategies.
The Sprott faculty's mission within their research agenda is to generate resiliency and inspire—and transpire change—within the business community. They are a team of leaders who are taking action to create solutions that will help businesses and communities emerge with new tools and strategies for success, and perhaps with a greater sense of well-being.
Tuesday, January 12, 2021 in covid19, Research
Share: Twitter, Facebook