The entrepreneurial spirit is one that Genevieve Walton, BCom/16, inherited from her parents. She grew up watching her parents run their own toy store in London, Ontario. Last year, Genevieve took the leap and started an Airbnb property management company, Short and Suite.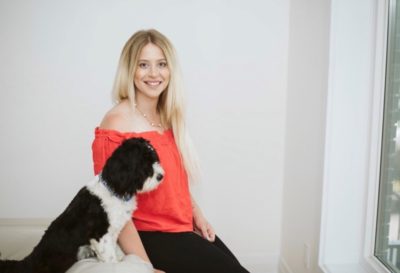 "I was really fortunate to have parents who were both entrepreneurs. They taught me a lot, just for example, at the dinner table," shared Genevieve. "But what I didn't learn was the management side. I think how important management really is gets overlooked, especially in terms of when you go to school. Day-to-day management, that is our biggest challenge in terms of managing employees, managing clients, managing guests. That's really what I took away from Sprott on the academic side – how to manage people effectively, how to build a company culture."
It was her concentration in management in the Bachelor of Commerce program that allowed her to take some of the courses she has found to be most useful in her business today.
While at the Sprott School of Business, Genevieve got involved with organizing the Sprott Business Students' Society annual banquet. She lead Sprott's fall orientation program, Sprosh, for two years and participated in the 5 Days for the Homeless fundraising campaign to address youth homelessness.
"It really put things into perspective of how fortunate I am in my life and how unfortunate some people are," said Genevieve about her experience with 5 Days for the Homeless. "I think it really showed that Sprott community. Giving up five days to sleep outside in February or March shows how giving of a community it is."
Despite Genevieve's involvement and success in and out of the classroom, there was one course standing in her way to graduating: calculus. It was a course she struggled in and had dropped a few times. It took her two extra years, but she finished the calculus course and got her degree.
"I didn't actually think I was going to graduate for a long time because I just didn't think I could do it," explained Genevieve. "Then I started working for CLV Group, which is a property management company here in Ottawa, and they really mentored me in terms of having more of a work ethic to finish that course."
It was working at the CLV Group that influenced her to go into property management. In August 2017, Genevieve left her full-time job to focus on Short and Suite. Her business supports landlords with short term rentals. Short and Suite does the cleaning, check-in, check-out, guest interactions, garbage removal and more.
Genevieve said a lot of people romanticize the idea of entrepreneurship. "Most people talk about how much money they make, or how sexy it is, that kind of stuff. It's not. It's not what you're doing 9 to5, it's what you're doing 5 to9 that really matters. And when people are sleeping, we're still working. A lot of work goes into it."
Her hard work has paid off. When she started the business, she had one contractor. A year later, she has 18 employees;11 of them working for her full time. The work ethic and dedication needed to start a business is similar to what is needed to finish a university course that seems impossible.
"Just put your head down, get it done and push through. It doesn't have to look pretty, it just has to get done," Genevieve advised. "I think there's such a focus on grades, and by no means is that not important, but we're managing over 200 properties in Ottawa now. I couldn't even tell you what my GPA was."
"Keep pushing through, keep connecting with people. Use those people as resources as well, once you've connected with them. Stay in touch, do those follow-ups. But it all comes down to grinding it out, working hard."
Friday, February 1, 2019 in Alumni, Meet our Alumni
Share: Twitter, Facebook