The last few weeks of my time in Munich were very emotional, with the final exams of the semester taking place as well as the slow trickle of friends departing for their home countries.
I must admit that my stress levels were never higher than they were during this time, as I had made a few bad decisions regarding my choice of classes, as well as the ever looming notion of returning home and experiencing the dreaded reverse culture shock that I was already experiencing a few weeks before my departure. To be honest, as I sit at home in my childhood room writing this final post, it feels like I never left, like it was just a whole dream, as I can remember the day I left for my year abroad like it was yesterday – and for all I know, it could have very well been yesterday!
But then I remember all the things I accomplished during the year, and I remember how changed I am as a person, and how I have come back to my birth country feeling stronger than ever before. I also realize that 11 months really isn't a long time to be away, and it feels like it all flew by so quickly, but when I actually take the time to think about what I did during the year, the list is never ending, and I couldn't be more thankful about having the opportunity as a student to be able to experience all that I have.
I may have only had a small growth in age, but the growth in my mind and my attitude has grown tenfold.
I left Canada feeling very apprehensive about starting life in a foreign country, and at every corner of my stay abroad I was forced to climb the ladder of growth and climb closer to what I aspire to be in the near future.
Looking back, I have made friends for life, I have learned a new language and can actually communicate with locals on the street and make them believe I am actually from the country, I have successfully completed a whole year of business studies in a foreign school with foreign customs, and I have successfully achieved my personal growth goal set before I departed for my exchange.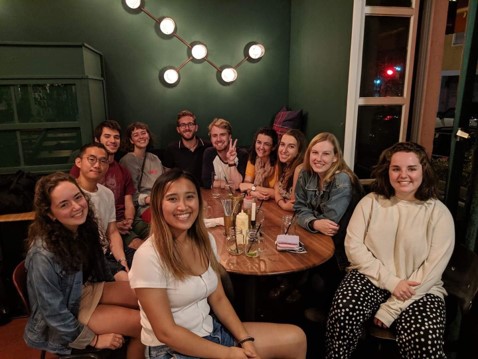 There have been many ups and downs during the year, and at the time of the latter moments I wished I was somewhere familiar—somewhere I knew the customs and how things worked. But looking back now, I realize that I wouldn't be who I am now if those moments hadn't have happened, and I wouldn't have grown the way I did and come out the end of the twisted tunnel knowing who I am and where I want to go in life.
This year away from reality has shown me who I really am as a person, and even though my heart wrenched as I took off on my flight back to Canada, feeling the wheels of the plane leave the land that I have deeply grown to love, I know it was time to finish what I started, all those three years ago back at Carleton. Back when I was a nervous first year student being dropped off into residence—I remember it like it was yesterday.
My end goal after graduation from Carleton is to firstly make it back to working in Europe, as I want to be able to utilize my language skills there, but my short term goal in terms of my final year in Carleton would be to try and get more people to get out of their comfort zones and do an exchange year or even just a semester, as I think it is such a life changing event. I have every intention of achieving these goals! Not to mention as well the worldly street smart gained from my travels all around Europe, which will help me fight through the tough times, as I'm sure there are few things worse than almost being attacked by a pack of wild dogs in the heart of Romania!
I am so thankful for all the people I have met, including all Erasmus students and local LMU students, and I look forward to seeing them again soon, as they truly are friends for life.
Jasmine is a third-year Bachelor of International Business (BIB) student studying abroad in Germany.
Wednesday, August 14, 2019 in Germany, Jasmine in Germany, Students Abroad
Share: Twitter, Facebook