Most Sprott students today have heard of Sprosh and 5 Days for the Homeless. What they don't know is Jessica Harding, BCom/11, helped spearhead these initiatives during her time at Carleton.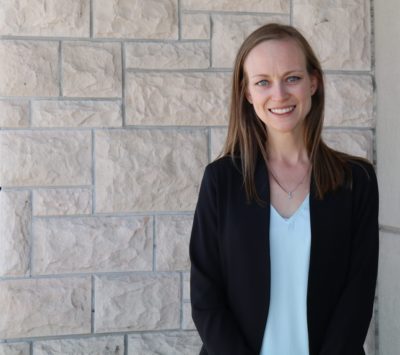 "I went to school at an interesting time, where a lot of these initiatives were brand new when I was a part of them," Jessica shared. "I have no idea what made me get involved in first year. I was always a really closed, quiet person. But I got involved with SBSS in first year and from there it motivated me to get more involved."
It was through conferences and meeting students from business schools that Jessica saw how quickly the 5 Days for the Homeless campaign was growing across Canada. Started in 2005, 5 Days for the Homeless is a nationwide campaign organized by business students at universities across Canada that raises awareness of youth homelessness and funds for local organizations supporting homeless youth.
Jessica worked with two other Sprott students to get approval from campus security to run the first 5 Days campaign on campus in March of 2010 During the campaign, students spend five full days living and sleeping outside on campus in March with no access to showers or technology, eating food received by donation only and attending classes while raising funds and awareness for Operation Come Home.
"I think it's gotten Sprott more involved in the greater Ottawa community and given them a bigger name in the city. And after we did it, Ottawa U jumped on board the next year as well, which I thought was really cool. Between the two of us we're able to help even more people and raise even more awareness," Jessica expressed.
The feedback from the first year was very positive, with local media coming out to cover the initiative. 5 Days for the Homeless has since become an annual and well-known event at Carleton.
As well as helping to start 5 Days for the Homeless, Sprosh and the Sprott Toastmasters club, Jessica was the first teaching assistant for Sprott's business case analysis course, which at the time was taught by Professor Rob Riordan. The course focuses on improving students' presentation skills and preparing them for case competitions. Jessica spent a summer helping to create the initial course syllabus.
The presentation skills Jessica learned from Professor Riordan have come in use throughout her career. A few years ago she had to give a presentation in front of hundreds of professionals, and she remembers thinking that this is what she learned to do at Sprott.
Ottawa born and raised, Jessica moved to Toronto after graduation to challenge herself in a bigger city. She started her career at Canadian Tire as a Category Implementation Specialist, helping them to bring home décor into their stores. She transitioned to the financial services side of Canadian Tire. She most recently worked in their loyalty and retention division before moving back to Ottawa.
While working at Canadian Tire, she became involved with their charity, Jumpstart. This charity helps bridge the financial barrier so that children can participate in physical activities. Jessica said she caught the "volunteering bug" from her time at Sprott.
"[Volunteering] takes the experience away from your desk. It made me enjoy work more when I'm not just sitting at my desk all day. It adds more excitement and purpose, which I gained from both the Sprott experience and from the Jumpstart experience. You get that exposure to different opportunities that you wouldn't have had otherwise."
To donate to 5 Days for the Homeless and help Sprott Students reach their $10,000 annual goal, visit: Donate to 5 Days for the Homeless Carleton
Monday, March 11, 2019 in Alumni, Meet our Alumni
Share: Twitter, Facebook