Sprott MBA students competed in the national MBA Games and returned with a $10,000 grant to support safe spaces on the Carleton campus.
Fourteen Sprott MBA students represented Carleton University in the Games, which were hosted by the University of Ottawa from January 5-7, 2018. Teams representing MBA programs at 17 universities across Canada took part in academic case, athletic and spirit competitions
This year, a social case was added to the competition. The Moostery Spirit Case was developed by the MBA Games' charity partner – the Moose Hide Campaign, a grassroots movement of Aboriginal and non-Aboriginal men dedicated to ending violence again women and girls. Teams were challenged to create a $10,000 project that would bring the Moose Hide Campaign's Safe Space, Safe Place vision to their university campus.
Sprott's team of Max Sherry, Phillip Pratt-Vaugeois, Steve Deery and Gourav Mitra was one of four teams to be awarded a $10,000 grant from the Moose Hide Campaign to put their proposals in action.
"To come up with our specific strategy, we looked at what was currently being offered on campus in terms of services and built upon them to bring about as much of Moose Hide's vision as possible," said Max Sherry, who also served as co-captain of Sprott's MBA Games delegation.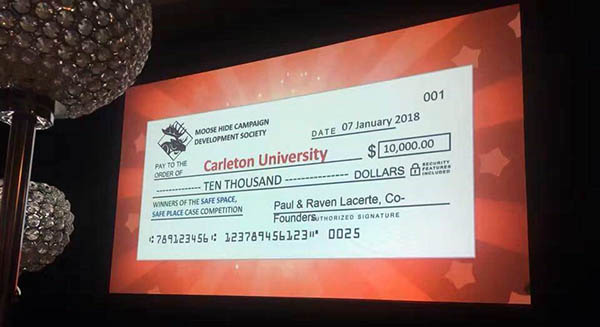 "The entire team clicked so well and it was a great group to work, collaborate and have fun with."
Sprott MBA student Dimitri Moisseev won the photography challenge for his submission of photos he took at the Games that best demonstrated the theme of the Games, "More Together."
Friday, January 12, 2018 in Competitions, News, Students
Share: Twitter, Facebook