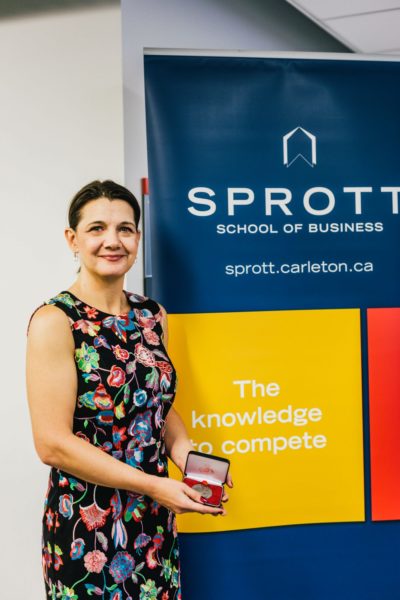 Convocation is a special time to celebrate and reflect on the accomplishments of exceptional graduates that have made a mark on our community.
Within Sprott's Master of Accounting (MAcc) program, Rebecca Renfroe's experience is one worth highlighting. Not only is she a recent graduate, but also teaches accounting at Sprott.
In addition, she co-owns a court-reporting company and is a full-time mother and wife in Ottawa. Despite having plenty of competing priorities, Rebecca remained focused and graduated at the top of her class. She was awarded the Senate Medal for Outstanding Academic Achievement at Carleton's 2017 Fall Convocation Ceremony.
Prior to arriving at Sprott, Rebecca completed her undergraduate degree at the University of Alberta, receiving degrees in both Commerce and Education.  Shortly after receiving her Chartered Professional Accountant (CPA) designation in 2007, Rebecca began working at Sprott as a contract instructor, teaching taxation in the Bachelor of Commerce program.
She came to the realization that if she wanted a full-time instructor position, she would need to pursue a master's level education. After enrolling in a Master program at the University of Liverpool, Rebecca soon discovered that an online environment didn't suit her learning style.
One day, over coffee, Rebecca was speaking with Jacques Maurice, the director of the MAcc program at Sprott.  She recalls Jacques had asked her how was liking her online studies, which she was not.
"He mentioned I may want to consider the Carleton MAcc route instead. I'm so glad that I did," she smiles.
Once she discovered that Sprott offered a Master of Accounting program, she knew it was the right fit. Rebecca says Sprott's Master of Accounting part-time stream fit her busy lifestyle perfectly.
"I began the program with the goal of getting my degree and then moving on, but I ended up walking away with so much more than I could have expected," says Rebecca.
Her position as both a student and instructor concurrently provided Rebecca with a unique learning experience.
"When I was in class, not only was I learning the content as a student, but I was observing how the professors were teaching and getting different ideas for techniques that I could implement in my own classroom," she says. "It was inspiring to sit in the classroom every week and learn from such a high level of instruction."
As she already had her CPA designation, the usual stress of writing the CFE (Common Final Exam) on MAcc students was lifted from her shoulders. However, Rebecca still emphasizes the level of difficulty and intensity of the program.
"The MAcc is no joke. You need to be prepared to work really, really hard," she says.
Despite being several years older than the majority of her classmates, Rebecca found companionship and a support-system among her part-time peers.
"There's a group of about six of us part-timers that I became good friends with even though I'm probably about 20 years older than them," she shares. "Although I could have completed the program without their support, it wouldn't have been nearly as enjoyable."
Rebecca is now looking forward to some much-deserved relaxation and spending time with family.
"I swore to my husband and kids that I would take some time off," she laughs. Her long-term goal is to land a full-time instructor position in the Ottawa area, as she loves being in the classroom and teaching students.
That being said, she doesn't rule out the possibility of pursuing her PhD down the road.
"I'm old enough to know to never say never," she explains. "There could be an opportunity for me to pursue my PhD in the future. It's always good to keep learning."
Despite the challenges of the program, Rebecca highlights the quality and value in her education.
"It will prepare students to be well-rounded accounting professionals with proficiency in all areas," she notes.
Rebecca gives her sincerest thanks to her colleagues, peers, faculty and staff that have helped her along the way. Particularly noting Jacques Maurice and Jessica Windle, MAcc administrator for their continued support throughout her journey.
"I really need to stress that Jacques has built a wonderful program with fantastic content and a fantastic faculty," says Rebecca. "I owe him and his team a great debt of gratitude for selecting me and supporting me through the program."
Tuesday, November 21, 2017 in Alumni, Master of Accounting, News
Share: Twitter, Facebook