A truly international business education and experience!
Sprott's Bachelor of International Business (Honours) develops highly skilled graduates with the training and background to help companies succeed globally.
BIB student Alexandria Hewko checks in from her academic exchange in Spain.
91.5% of Sprott International Business grads are employed within 1 year of graduation. (Based on a survey of 2017-2019 graduates)
Through the BIB, you will develop proficiency in another language, cross-cultural skills and gain first-hand international experience through a year abroad, giving you a competitive edge in your career. Courses lay a foundation across key areas of business and build on that foundation with specialized courses in international business and management. The Sprott School of Business is accredited by AACSB International and the Network of International Business Schools (NIBS).
Intensive language training – Years 1,2
In the first two years of the program, you will take intensive language courses in your choice of five languages: French, German, Japanese, Mandarin or Spanish. During these years, you'll also take core courses in business fundamentals and international business.
Full year abroad – Year 3
In third year, you'll spend a full academic year studying in another country at one of our partner institutions to increase your cultural awareness and improve fluency in your chosen language. You'll pay Carleton tuition fees and receive academic credit for successfully completed courses.
You return to Carleton in Year 4 to complete the program.
Careers
At Sprott, career development starts in first year and continues throughout your time here. Our size enables us to provide students with greater opportunities for individualized support and access to employers.
International Opportunities
In addition to the year abroad, Sprott BIB students can gain more international experience through opportunities that include international case competitions and leadership programs.
Student Experience
Sprott is home to a tight-knit student community and offers exceptional opportunities to expand your networks and your resumé.
Student Support
Sprott is known for providing outstanding student support. Our size enables students to have more access to employer events and career services.
Admissions
Visit the Admissions website for admission requirements to the BIB, information on how to apply and Carleton's generous scholarships program.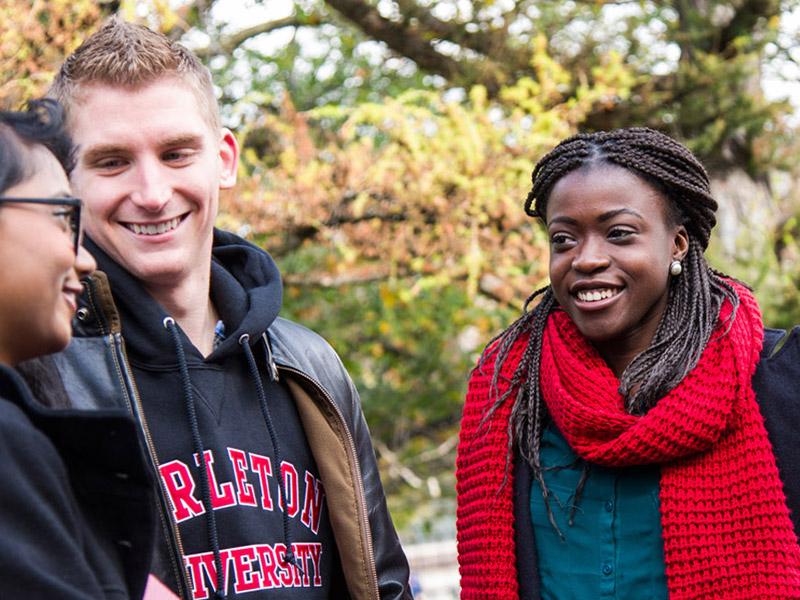 Visit Sprott
Attend an event!
Meet students and faculty, attend a presentation and tour campus. Learn about Sprott programs, career development, student support, experiential opportunities and more! Register today!
Be a Sprott Student for a Day!
You'll be paired with a Sprott student host in your program of interest. Your host will accompany you throughout the day's activities, which include attending a class, lunch in the residence café, a visit to Sprott's undergraduate hub, and more. Sign up today!
Upcoming Events
Join us at one of our events where you can meet Sprott faculty and students and learn more about our Bachelor of International Business program.
CU at Home: Sprott Spotlight (May 12, 2020)
Meet Our Grads
We asked graduating students to share their Sprott experience. Read their stories below.
Zachary, BIB/18
Zachary Hall is a 2018 graduate of the Bachelor of International Business with a concentration in Global Financial Systems and Management. He is also the recipient of the 2018 University Medal. Learn more…
Alexandra, BIB/19
Alexandra Lam is a graduate from the Bachelor of International Business program with a concentration in International Strategy and Human Resource Management and a Minor in Spanish. Learn more…
Hannah, BIB/19
Hannah Finlan is a graduate from the Bachelor of International Business with a concentration in Global Financial Systems and a Minor in German. Hannah was also awarded a Senate Medal for Outstanding Academic Achievement. Learn More…