Hello again everyone!
Today, I am actually writing you from Brazil! My internship in Paris ended about a week ago.
After collecting all the data and finishing the report for Savoirs de Peuple – AINY, I did a country/market/product analysis presentation for the company. It was quite interesting because it felt like I was doing a presentation for one of my business courses at Carleton. I was also quite surprised how relaxed and ready I was for it. I believe this is due to that fact that I have been doing business presentations since my first day at Carleton.
I presented to the CEO, the head of Marketing and the head of Finance. The day preceding the presentation, I was a bit nervous because it would need to be given in French and I know that when I get nervous my brain switches to English. But it didn't and I was able to do the presentation just fine!
After my presentation, they had some questions, but were happy with my findings and analyses. They also mentioned that the data was exactly what they were looking for. The great thing is that I used the reports from one of my marketing courses at Carleton as a guide in creating my report for AINY. I was quite happy with my presentation and my final results.
I finished my internship in Paris on June 11 and I arrived in Brazil on June 13. As you may know by now, I don't tend to stay still. So, on June 17, I started another internship at AVERAMA AGRO INDUSTRIA here in Umuarama, Paraná.
Averama was created 20 years ago and it is one of the biggest producers of chicken meat in the State of Paraná, Brazil. They have eight facilities with more than 2,300 employees and they have an average of 300,000 chickens slaughtered per day. The whole production process is controlled by the company.
Today, 60 per cent of their production is directed to the Brazilian market while the other 40 per cent is for the foreign market. The main importers of their products are the Middle East and Asian markets, which means that one of their plants is dedicated to the slaughtering process under strict Islamic rituals, also known as HALAL. They also export to Saudi Arabia, Argentina, Chile, Cuba, Emirates Arabs, Hong Kong, Yemen, Japan, Mauricio, Venezuela, Jordan, Turkey, Tunisia, Durban, Baharain, Oman, Libia, Qatar and Kuwait.
You may be wondering about what I am doing here, since in Paris I was working with a cosmetic company and now I am working with chickens! I am actually interning under the export department, so I have been updating their database on their transactions and invoices. I know how many chicken feet they have in stock and how many are going to Dubai and when they are arriving there. These are the kind of things I have been doing for now, but I know I will be rotating within the department during my internship.
Last week, we had a visit from clients from Dubai and this coming weekend, we are going to another city for a course on the Brazilian export market. That should be quite interesting for me since I do not know much about the Brazilian approach to exports.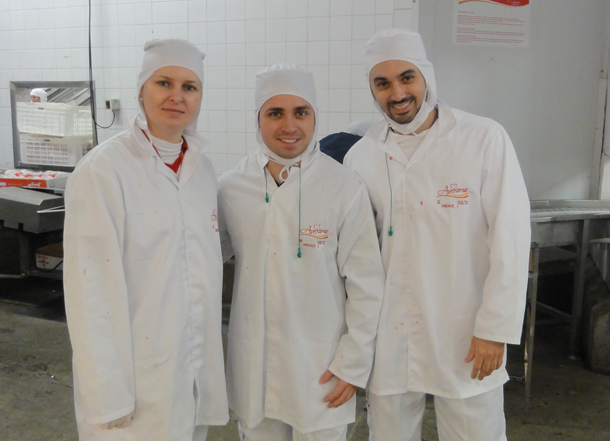 This past Saturday, my boss and my supervisor took me into the factory so I was able to see the whole process. It was quite incredible to see the high level of technology they have in this industry.
I will keep you all updated on what I'm up to in the coming weeks!
Have an incredible day!
Rodrigo Loução Pereira