Executive-in-Residence: Maria Barrados
Partner, Barrados Consulting, Inc.
Former President, Public Service Commission of Canada
Maria Barrados is the former President of the Public Service Commission of Canada (2003-2011) and is currently a partner in the consulting firm, Barrados Inc.
From 1993-2003, Maria served as the Assistant Auditor General in the Office of the Auditor General of Canada. She joined the department in 1985 and held a number of management positions. Prior to this, Maria held senior positions in the Education Support Branch of the Secretary of State for the Government of Canada and Atomic Energy of Canada Limited.
In addition to serving on the Sprott Advisory Board, Maria also volunteers as Chair of Accreditation Canada International. She is a member of the advisory boards for the Salvation Army, the Confucius Institute at Carleton University and is a member of the Executive of the Rothwell Heights Community Association.
She holds a Ph.D in Sociology from Carleton University, as well as her M.A. in Sociology from McGill University and an Honours B.A. in Sociology from the University of Saskatchewan.
E-mail: maria.barrados@carleton.ca
Entrepreneur-in-Residence: Niraj Bhargava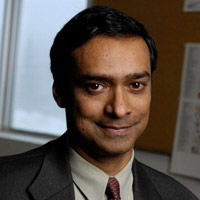 Founder & CEO, The New Energy Group.
Niraj Bhargava (P.Eng, MBA, ICD.D) is Founder and CEO of The New Energy Group (NEG). NEG provides professional services and solutions in the sectors of Energy Management, Education and Entrepreneurship for clients in the US, Canada and Asia.
Recently, Niraj was Co-Founder, Chairman and Chief Executive Officer of Energate Inc., a venture-backed tech company specializing in home energy management and smart grid solutions, including technology deployed in the successful smart grid project awarded the highest global industry honors in 2013 by avoiding 200 MW of new power generation through efficiencies. Over ten years with Niraj as its leader, Energate was three times been awarded a place on Canada's Green 15 list of successful green technology companies and has been listed on the Global Smart Grid 50 and Deloitte's Fast 50.
Previously, Niraj was President and CEO of Enerstat Limited, the company that first commercialized the electronic programmable thermostat, and led it through a turnaround and acquisition. After Enerstat, he became CEO of QCED Inc., a faculty member in Entrepreneurship at Queen's University, a Director of the Queen's Executive MBA, and then Dean of the Business School at Royal Roads University.  Earlier in his career, Niraj practiced engineering at Bell-Northern Research and IBM, marketing and business development at Northern Telecom and General Electric, and was the founding General Manager of GE Energy Management.
Niraj has a BASc. from University of Waterloo and an MBA from Ivey Business School, as well as an International Business certificate from Stockholm School of Economics. Niraj lives in Ottawa and Bali in Asia, embraces the outdoors, and travels extensively with his family focusing on international development and sustainability.
E-mail: niraj.bhargava@carleton.ca
Executive-in-Residence: Basia Ruta
Founder, Ruta Consulting 
Ms. Basia Ruta was appointed as an Executive-in-Residence at the Sprott Business School effective February 1, 2016. She assumes this post while also continuing her consulting work which she began in April 2015. Prior to that, Ms. Ruta held various positions in the public sector. Most recently she was appointed as British Columbia's first ever Auditor General for Local Government. She held that position from January 2013 to March 2015. From 2006 to 2013, Ms. Ruta was an Assistant Deputy Minister and Chief Financial Officer at Environment Canada. Her work at Environment Canada also included two years on interchange with the then Canadian Institute of Chartered Accountants. Her work at CICA focused on assurance standard setting.
Ms. Ruta's career in the public service is broad and spans over 31 years. She joined the Office of the Auditor General of Canada in 1984 where after 10 years, she achieved the position of Principal, Audit Operations. She led a number of audits addressing public accounts, financial management, risk management, operations, governance, alternative delivery structures and grants and contributions.
In 2000, Ms. Ruta became Director General, Corporate Planning, Governance and Balanced Scorecard with the then Canada Customs and Revenue Agency. In the spring of 2003, Ms. Ruta was appointed Acting Deputy Assistant Commissioner, Customs. As part of that role, she oversaw a broad spectrum of border/trade operations which also included leading key components of the transition to the new Canada Border Services Agency.
In 2004, Ms. Ruta was appointed Assistant Comptroller General – Internal Audit. Among her key achievements was developing a new Policy on Internal Audit that was viewed as transforming internal audit across government, and leading edge for governments world-wide.
Ms. Ruta obtained a Bachelor of Commerce degree (B.Comm.), Honours (Spec. Accounting) from the University of Ottawa. She is also a member of the Ontario and British Columbia Chartered Professional Accountants. She received her chartered accountant designation in 1983.
E-mail: basia.ruta@carleton.ca